Finding Christ In The New Normal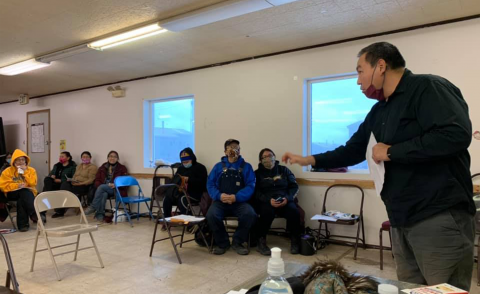 Just when we thought the worst of COVID-19 was over, it has reared its ugly head, particularly in Alaska villages with over 155 cases and two deaths in one village alone! Many villages are again closed to visitors with incidences of depression, substance and physical abuse and spiritualism on the rise. Arctic Mission Adventure (AMA) supporters makes it possible for workers like Petu Koonooka in Gambell (far right) to be a spiritual lifeline in his village during the pandemic. Our AMA workers are putting Christ into the "new normal" in villages across Bush Alaska and bringing the Advent message to Native communities. Your support is critical to the success of our mission workers. And we need you! Consider supporting our efforts during this incredibly difficult time – with a gift today.
---
Veggie Foods Available
Amazing Grace Academy has a small "store" of Worthington/Loma Linda/Morning Star Farms food for sale. Fri Chik, Big Franks, Chili, Choplets, Saucettes, Skallops, Vegetarian Burger (Worthington), Linkettes, Nutolene, vege-burger (Loma Linda), as well as some frozen rolls, and veggie bacon strips (stripples), breakfast patties, and Roma are available for purchase. Please contact treasurer Tricia Billoff or call the school office at 907-745-2691 for a current inventory, price list and to schedule a pick-up time.
---
2022 Calendar Now Available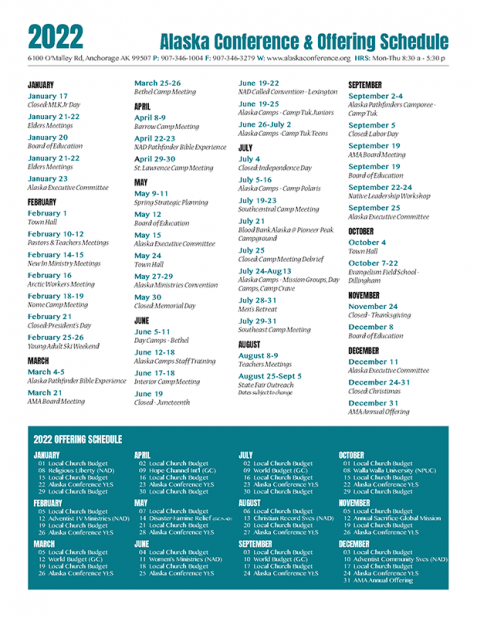 The 1-page conference 2022 calendar is now available for download. The new year starts off strong with the annual elders' meetings January 21 & 22; the theme is Together In Mission. Also available to download are the 2022 offering readings. The readings are also available on the NAD Stewardship website. There you will find readings in different languages as well as additional stewardship materials for churches.
Download 2022 Conference Calendar
Download 2022 Offering Readings
---
Friday Night Prayer Line
Join fellow Alaskans each Friday evening for the Friday Night Prayer Line from 7:00-8:00 pm.  Call 800-719-6100; Access code 4760107.
---
Remote Sabbath School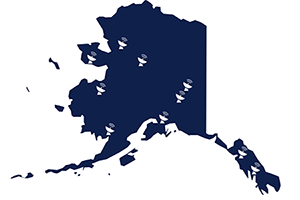 Do you live in an area where this is no local Adventist church?  Join the Remote Sabbath School Class on Sabbath mornings at 9:30 am.  Call 800-719-6100; Access code 4760107.
---